I'm finishing up my 50 By 50 list with some miscellaneous items that I'm pretty damn excited about.
41. Watch all of the Academy Award winning best films. Chris and I started doing this a couple of years ago, but have only made it back to the late 80's so far. Really enjoying most of these films, and I'm looking forward to some of the early films!
42. Watch all of the Morgan Spurlock top 50 documentaries. I loved Morgan Spurlock's 50 Documentaries to See Before You Die on Current TV. I've seen many of the ones that made his list, and now I want to see the rest of them as well!
43. Get a WV tattoo.  I have the design. I have the artist. I just need the tattoo!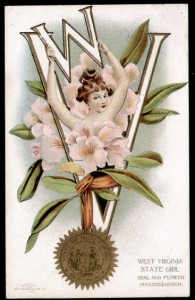 44. Get a tattoo with my brother.  And I haven't spoken to him about this at all. I guess they don't need to be matching tattoos, but a similar theme would be nice. Maybe traditional Mom tattoos?
45. Do something fun and cool with Sophia. Probably not tattoo related.  Our niece Sophia is nearly ten years old. It's time to begin the indoctrination.
46. Swim with manatees. I've lived in Florida for 23 years and have never done this!
47. Go to 3 musical concerts. Just because I don't do this nearly often enough.
48. Build a clogging board. Dance more. I've started going to clogging class again and am really enjoying it. But I want to learn how to free form clog so that I can dance at folk festivals and other gatherings. Craig has already agreed to help me build a clogging board after my mini-vacation at the end of this month. After that is done I will be on my way!
49. Play an instrument or sing in 7 YouTube videos or performances. I'm added 'Or make a cooking show' to this one. Seven is only one per year, and I think I can at least do that!
50. Have a big wedding anniversary party. There are so many wonderful people in my life that I didn't know when I got married. People that really should have been there. So I want to have a big anniversary party (Tenth, maybe?) at the same place where our wedding was, and again, invite everyone that I know!
So that's it! Today is my 43rd birthday, and I'm ready to start working on my list! Do you have a XX by XX list? Leave a link to it in the comments!