What a surprisingly short knitting list!
23. Complete all knitting WIPs including Epic Sweater the First. I've kind of been working on this one all year. The only new projects I've started this calendar year have been socks, and I think I've only done one or two pairs of brand new ones. Everything else I've knitted has come out of the WIP (Works in Progress) drawer. One sweater I pulled out this past weekend only needed the ends to be woven in! So I plan to continue on this track until I'm down to not a damn old thing before I begin any new things.
24. Plan Epic Sweater the Second. Which will be one of these: Linkie. I do have the pattern book already, which is the first major hurdle since it is a rare one.
25. Knit an epic lace shawl. A wedding ring shawl perhaps? That's a super fine full sized shawl that can be pulled through one's wedding ring. Crazy talk.
26. Design the disjointed cabled sweater. It wasn't long ago that I fell in love with this sweater that a friend linked to: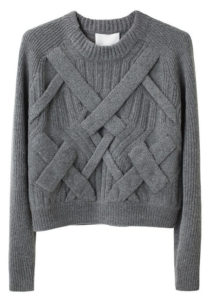 I *must* figure out how to make this! MUST! Sometime within the next seven years.