My husband and I just got back from an amazing trip to Bruge and London! We did a lot of things right this time, and we screwed some things up as well. Since I felt like I wasn't able to find a lot of practical tips before we left, I'm anxious to tell you what we learned! I imagine many of these tips will be appropriate for other international travel, but since our trip was so specific, I don't want to generalize.
1. Minimalize your luggage. This is now my number one rule for all travel. Squeezing down to a single carry-on bag and a medium sized purse was the smartest travel thing I've ever done. Packing cubes were a great addition to this, but now that I know for certain that I can do 12 days away from home in one tidy little bag, I'm sold. If you can get it down to that, you'll feel vastly superior to people in the airport lugging around four huge suitcases. Imagine carrying those from the airport to the tube to your apartment and back again. Whether you choose a backpack, a roller, or a spinner, you will be amazed at the ease with which you can zip around London and get *all* of your luggage quickly and easily up those tiny little staircases in Bruges.
2. Upgrade your seat. It cost us about 10% of our ticket price to upgrade to Economy Plus. That four inches of extra leg room was amazing, especially on the longer, exhausting plane trip back from Europe. I also noticed that you have a better chance of having an empty seat in your row in the slightly upgraded section. Six to eight hours is a long time to sit in one spot. Having some room to jiggle my legs was totally worth the extra money! And you can upgrade after your ticket purchase so that you can spread the money spending around a little bit.
3. Fly direct. If you can get to an International airport, do it. Drive there. Layovers add to travel stress and increase your chance of missing that last flight that takes you to paradise! 
4. BYOE. Bring your own earbuds or small pair of headphones that you know you like. The headphones on the planes are total crap, and you are most likely going to want to watch a movie or TV show on your long way across the Atlantic.
5. Don't put all of your monies in one currency. We were convinced at the airport to exchange our dollars for Euros only, which kind of screwed us when we got to London. We should have at least had 50 pounds or so in our pockets when we got there. You can exchange everything back to US dollars at the airport, or exchange your Euros to pounds or vice versa in a bank on a weekday. So be prepared!
6. Get a chipcard. America will be moving to chipcards (Credit cards that have an electronic chip embedded) in 2015, but until then you may need to ask your bank or credit card company specifically for a chipcard. There are a few places in Europe that will not accept a credit card without the chip in it, and you don't want to get stuck. Purchasing train tickets at the kiosk was iffy at points, even with a chipcard, so have a back up plan. Our chipless ATM card worked fine in every cash machine we tried, though.
6. Tipping is optional in Europe, but appreciated in small amounts. When paying cash I'd leave the server with the jingly change and that seemed to work well. Oh! And be patient in restaurants! You may want to order your drinks and food at the same time, as it is sometimes hard to flag down a server. You will have to specifically ask for the check when you are ready to pay, and it may take a while for that to happen. But relax! You're on vacation!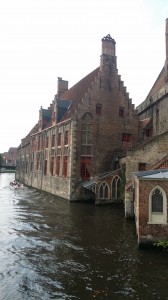 7. While you're tipping your server, talk to them. Just chit chat. Hell, talk to everyone! My friend got one of the Harrod's counter sellers to totally dish on some of the super rich customers that she's dealt with and some of the crazy questions they ask. And we got a great cab recommendation from our pub server one night.
8. Know that pay toilets exist. Keep a pound/Euro in change on you in case you have to pay to use the only toilet available.
9. Get out and about. Not just in town, but through the country. Take a bus tour or a driving tour outside of London or in the Belgian countryside. Europe is gorgeous, and you'll get to glimpse a bit of the lifestyle of the out-of-towners.
10. GoogleMaps is your friend. If you won't have cell phone access overseas, learn to use the 'save map offline' function of GoogleMaps. You can mark all of your must-see places while you're at home, leave your GPS locator on, and at least be able to see where you are in relation to your landmarks. Here are Google instructions for saving those maps.
11. Learn about VAT before you leave. If you want to get your VAT money refunded to you, you will need to ask for a VAT receipt for each transaction at the time of purchase. Each of the VAT receipts will have a form to fill out, and you'll want to do that before you get to the airport when you are leaving London. When we were there the line for VAT refund was about 20-30 minutes long. You may want to set your VAT priorities before you leave home so that you have a game plan and know whether requesting the refund is worth it to you or not.
12. Know where to stay. Bruges is only about a 40 minutes walk from one end of town to the other. Staying in the middle of town in an apartment found through Home Away (Similar to Air B&B) was perfect for us. We were able to have breakfast at 'home' each day, and pop in on the apartment often as we were out and about to drop off jackets and purchases, or to take a nap or have a nibble. In London we stayed in an apartment near the King's Cross and St. Pancras Underground stations. While London is huge and we weren't able to use that apartment as a central location, being near those two large stations gave us direct lines to nearly any place we wanted to go. We planned our sightseeing by location and were able to minimize our travel time. Those stations also have a couple of grocery and pharmacy stores, as well as restaurants and take away kiosks for a quick dinner on your way home each evening. 
13. Take a tour. The double-decker bus tour in London gives you a good lay of the land and helps you find points of interest that you might want to check out later. Or just hop off the bus for instant gratification, then hop on another one when you're done at that site. I do recommend the live narrated tour, and I do recommend sitting in the top of the bus. You'll be up there with the tour guide and be able to ask them questions. The canal tour in Bruges is pretty short, but you'll get to see parts of the city that you won't be able to otherwise. It's a great, relaxing history lesson as well!
14. Get the app. We found the Android app Tube Map London Underground to be very useful as we were able to use it offline. And using the Kabbee app we were able to schedule a reasonably priced taxi to the airport in London. Speaking of which, flat fee cabs are the way to go in London. The Kabbee app allows you to schedule these on the fly.
15. Get away from it all. This may go without saying, but try to walk the road less traveled. Skip the Hard Rock Cafe and get take out from the chip shop down the alley. Find a small chocolate shop a few streets away from the center of Bruges instead of elbowing your way through the hoards at the shop in the center of town. These are the shopkeepers that will have time to chat with you. They can give you recommendations on restaurants and pubs and other things to do in general.