If you want to make a fabulous, inexpensive, easy hoop skirt click here. Come back here and scroll down, though, for a couple of pointers on the soaker hose. Yes, soaker hose! It's like magic. I promise.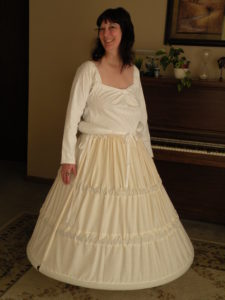 See how pretty and even the hoops are?! I cannot thank Mango enough for sharing her wisdom with the rest of the Internet world. She saved me much angst and consternation. I would like pass that savings on to you by showing you the first hoop skirt that I made, and allowing you to wallow in the atrociousness of it. The first thing you do *not* want to do to make a hoop skirt is buy this pattern: Simplicity 2621. Buy this pattern for the chemise, for the bum roll, or for the corset, but do not buy this pattern for the hoop skirt. The 'pattern' (It's really more of a pattern-less tutorial.) at deathbychutney.com is much better and easier.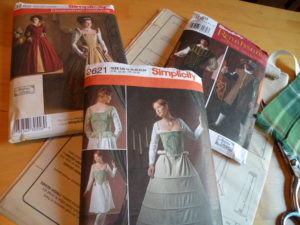 The other thing that you do *not* want to do to make a hoop skirt is to use boning for the hoops. Even if it is the most expensive, highest quality boning at Joanns, and even if you have a kick-ass coupon for it. I can't speak for the boning sold at high-end dress making supply stores, but don't go the plastic coiled boning route. Simplicity says it will work, but let me just show you how well it works:
Pretty sad, isn't it? All shrinking in on itself. The best possible material to use for your hoops is soaker hose, just like it says at http://www.deathbychutney.com/hoopskirt.htm. It's also a helluva lot cheaper than 15 yards of crappy boning. What, you haven't read the tutorial yet? Go! Go now! And when you come back I'll show you how I made my soaker hose connectors. As you can see here, the only soaker hose available at my local hardware store isn't one simple tube. That red line down the middle is where the hose is attached to itself on the opposite side. So I wasn't able to just slit a bit at the end of the hose and tuck it into the other end to make a tube.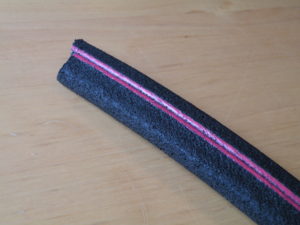 Do I cut off a piece of hose about 4 or 5 inches long. Then cut the red strip out of the middle. I tossed the red center and trimmed up each side strip a little bit.
Then I shoved each little strip into one end of the hoop hose, and joined the other end of the hoop in the same fashion. I did add a couple of wraps of duck tape at the seam just to make sure everything stayed stable. And it did!
Now you have the information to go forth and hoop skirt! I gotta tell you, the sense of accomplishment of getting that thing right after that first horrible skirt was overwhelming. Deathbychutney's tutorial really saved my day and my sanity!