I don't cook much. And by 'much', I mean not at all. I've taken to helping Chris out in the kitchen at dinnertime, but when left to my own mealtime devices I'm heating up the frozen pizza that I keep on hand for just such occasions.
But today was different. Today I made cookies. Today I made kind of kick ass cookies. Not a whole bunch of them, and not quickly (Worked out to be about 10 minutes per cookie. Goodness.). And they certainly aren't perfect. But they are cute, tasty cookies, and I made them! All by myself!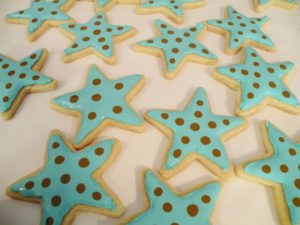 I wouldn't have made these cookies without the power of blog. Specifically the Bake at 350 blog. I've been reading Bridget's blog for several months now, even though baking cookies is normally one of the furthest things from my mind. I read it because it is pretty and fun, and because it sends me off on daydreams about being the kind of person who can do it all. The photos and projects at Bake at 350 make me want to add a little bit of extra pretty in my life. And occasionally, apparently, they make me want to bake aqua cookies with brown dots for my friend Liz.
This is the power of blog.
I enjoy exercising about as much as I enjoy cooking, and I do it about as often. But as I became Internet friends with Deb a couple of years ago, I added her fitness blog to my feed reader just to kind of follow her life and get to know her a bit better. I suppose as I skimmed over Deb's writing some of it must have started sticking, because I now regularly sling two tons of steel around my living room fifteen pounds at a time. As I told Deb the other day, my skirts fit better, I feel more empowered, and I will live a little bit longer because of her.
This is the power of blog.
The lesson here, kids, is to write and post. Even if you don't think people are listening, they are, and you are changing their lives. Sometimes a little, sometimes a lot. Maybe for a day, maybe for a lifetime. Because you have the power of blog.