I always have a sock on the needles. It's usually hanging about in my backpack or daily handbag, standing by in case of a board meeting or an unexpected long wait time at the car repair shop or when hand holding (Not literally. They frown on that nowadays.) at the tattoo studio. I'll knit on it a little when Chris is driving us somewhere, especially if that somewhere is more than ten minutes away. That doesn't happen nearly as often now that we live in town, but still, the sock is available.
The current sock is made of a gorgeous self-striping yarn made by my friend Caitlin at String Theory Colorworks. I really dig the self-striping stuff. When I finish a color of stripe, I get excited to see the next color come into play, and I keep knitting. The stripes keep me motivated.
The sock is always plain stockinette. That keeps things easy and I don't have to think about it. The sock is always of the recipe that I've honed over the years, again, to keep things easy and I don't have to think about it. (Recipe available here if you're interested, though you'll have to learn Cat Bordhi's Sweet Tomato heel wedge if you don't know that already. I think Cat Bordhi is a knitting fucking genius. A truly amazing inventor. Her mind works in ways that I can't even imagine. Anyhoo, the recipe: http://www.ravelry.com/projects/idyllicchick/london-mud And yes, you've got my little notes-to-self in there too. Enjoy.)
As I've developed my recipe of choice (Again, all of those notes on Ravelry for each and every sock I knit even though they are all so very similar.) and gotten more comfortable working without a pattern, I've wondered why I stopped knitting two socks at the same time on the one set of circular needles. It's such a perfect idea! I'd only have to count rows once! Both socks would automagically be the same length and height! What a perfect world! So I did it. And it was an utter failure.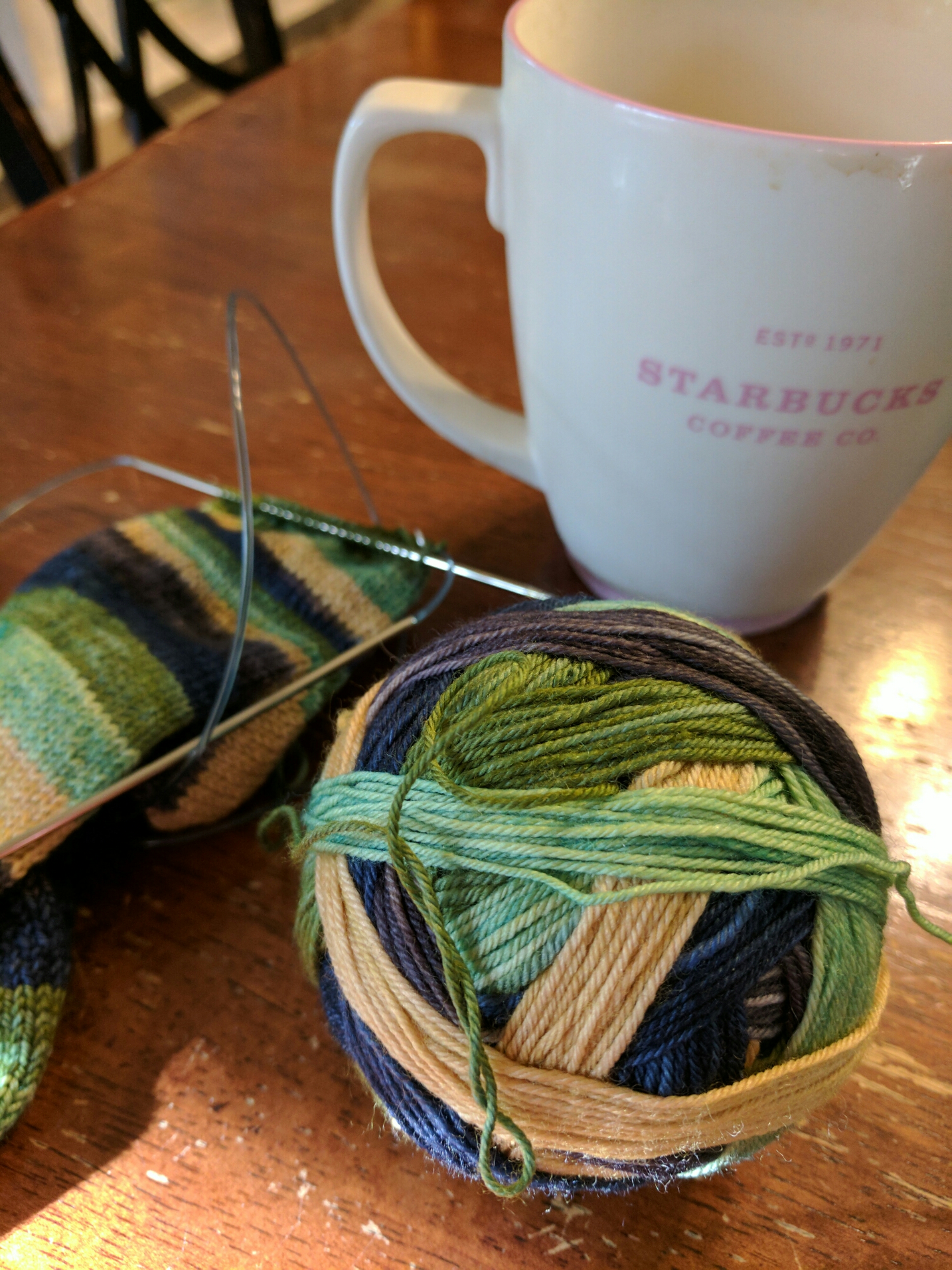 Because if I make a mistake, it's made on *both* socks. Then I have to rip back *both* socks. And I've lost twice as much time as I would have if I had simply made the mistake on one sock and then knit the second sock to match. And even though I've perfected my recipe, each different sock yarn I use is of a slightly different gauge. And even if I use my favorite sock needles which need to be replaced because I have worn them out, that difference in gauge will show up to surprise me every single time.
Lesson learned, newly single sock. Lesson learned.