So I was looking at the kind of dress that I want to wear to the Hoggetowne Faire on our big trip with Sophia this year. I want Elizabethan style with a low, wide neckline. And I was thinking about what the hell kind of bra I'd need to wear with it, because one of the downfalls of aging is that I now have to wear a bra when I dress up. Anyhoo, no modern bra that I could think of would work with this neckline. Strapless bras don't count anymore, as they don't work so much after the age of 30. Well what would a lady of the time wear with her fancy dress? A corset,of course! But before I jump all in with both feet, I needed to warm up the sewing machine with a simple shift to wear under the corset. This will keep the lining of the corset clean, and cut down on the chafing.
Even though it won't show at all, I wanted a pretty bit of fabric for my shift. It's funny how I'm so attracted to white on white designs even though I don't wear white at all. Ever. So I picked up this white on white fabric that kind of coordinates with the fabric I chose for my corset. The thing abut this fabric is that because the design is printed on the fabric, it makes the fabric quite a bit more heavy than I imagined. I'll still use it, but you might want to watch for that if you make a shift. I think I'll wear the garment as a nightgown for the next couple of months in hopes that washing it a lot will wear the fabric out some and make it lighter.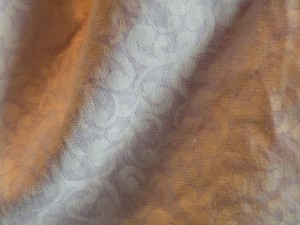 I used one of the patterns that I picked up on mega-sale at Joann Fabrics for the shift. As usual, I fell between sizes and cut out the larger size. And as usual it was way too big for me. Better too big than too small, though! Luckily this little under dress has very simple construction, so I just shimmed up a couple of the side seams, then put some cute pleats on the neckline in both the front and the back. I won't be able to get away with this kind of fix for the real dress, though, so I see an entire bolt of muslin in my future.
Next time I'm at the fabric store I'll pick up some sweet, fine lace to add to the neckline and cuffs and it'll be all done! I'll throw up a couple of more pics then.